About Giclees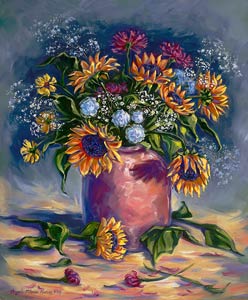 Sunflower Bouquet

Giclee on Canvas
The giclee process requires that the original painting be scanned digitally and recorded.
"Giclee" is a French word that refers to the use of inkjet printers, meaning to "spray".
Giclee printing made it's debut in 1985 and incorporates the technology of digital printing, whereby microscopic ink droplets are precisely positioned onto a surface. Giclee prints offer incredible
saturation, depth of color, and a beautifully finished print that captures the essence of
the artist's intent. Many contemporary and influential artists have adopted this new,
high-quality printing technique.
In terms of resolution, a giclee print has the highest resolution and color range. Giclee printmaking
offers one of the highest degrees of accuracy and richness of color available in any reproductions technique. Giclee printmaking provides a luminosity and brilliance that represents the
artist's original work better than any reproduction technique available today.
Canvas Giclees are UV protected with varnish,
mounted onto artists stretcher bars, then the frame is attached.
They should be hung as you would handle an original oil, and occasionally wiped with a soft cloth.
Paper Giclees are generally framed and mounted with archival mats and protected with glass.

Giclee printing uses archival canvas and papers with pigment-based fade resistant inks
which should last over a hundred years, so your print can be enjoyed for a lifetime!