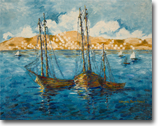 Oregon artist Angela Marie Kanas was born and raised in the city of Portland. She is self-taught, beginning her journey in elementary school. The turning point was in 1965 when Angela and her mother took a three month holiday in Greece to visit their family. In Athens they explored museums and encountered many street artists. Upon their return, Angela told her father that she wanted to paint like "those artists". He asked her simply; "Well, what do they use?" "Canvas!", she replied. He promptly gathered and mounted old window shades above the work bench then said proudly; "Just pull down and cut across, now you have all the canvas you need!" Her dad kept the basement studio stocked with art supplies and devised a number of artist's staples like a pallete from mom's first cutting board, handy lighting, and a brush cleaning apparatus. At age 15 Angela's first oil was painted in an impressionistic style on window shade canvas, titled "Mykonos". As a teenager she peddled art for gas money, and in 1967 at age 17 Angela was invited to participate in her first public show. She was by far the youngest artist of the group, yet sold an oil painting for $80.00.

In 1982 Angela moved to the island of Maui with her small greeting card business of tropical ink designs, however, the ultimate goal was to paint. Eventually, the local island people became her most inspiring subjects. Angela's Hawaiiana oil portraits found immediate popularity with locals and tourists alike, which led to the publication of her first two limited edition prints. With overwhelming response, new reproductions were issued annually to satisfy customer requests. As one Maui "Kamaaina" (local resident) put it simply; "Angela has brought grace back to the Hawaiian people with her paintings." During this time on Maui she was asked to showcase her works in galleries throughout the islands, and Hawaii, being the art capital of the Pacific, enabled her to reach clients worldwide.

After nine years and a successful career in the Hawaiian Islands, Angela returned to Portland, Oregon with her husband and toddler. Awaiting her was a contract offer from a national china plate company to portray Americana children. She passed on it to devote time to her parents, raise a daughter, and teach privately.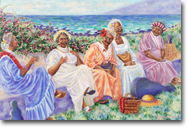 Today, as a seasoned oil painter, Angela Kanas masters a rainbow palette with a delicate color balance in a representational style that's all her own. She will always be recognized for her sensitive portrayals depicting the genuine warmth of the Hawaiian people which is best captured in her familiar most popular selling print; "Talking Story".
Angela Marie Kanas oil paintings and limited editions are owned by collectors throughout the world.